Hello all,

(Mods: If this isn't allowed, please tell me and I'll delete it. I figured someone here might be interested though.) I've got a pair of electric blue dupioni-silk pants which I'm selling. I made them for a friend of mine to wear for a competition, and now it's over with and he doesn't want to keep them I'm trying to sell them. I'll accept pay-pal, or an international money transfer (I'm in New Zealand). I'm trying to sell them directly, before putting up an auction, and I'd like to get US$30 for them, with free shipping worldwide.

They have a 28" inseam (71cm) and the waist band is 34 ¼" (87cm). They're straight-leg, with patch pockets on the back and lining in the front to the knees. Pictures are behind the cut. If you're interested then just leave a comment. Thanks!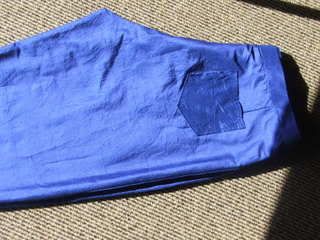 Sorry, X-posted a bit.